The Active Service Gospel Replica
We are very pleased to announce the publication of the 'Active Service Gospel', a replica of a John's Gospel that was given to troops, and sometimes their families, during the First World War. SGM Lifewords (at the time called Scripture Gift Mission) commissioned us to create the original artwork for their commemorative project. They didn't want to make a straight facsimile of the original, but rather a replica with a few considered changes in the spirit of the original, which would give the recipient today more of an insight into what it would have felt like to receive one a hundred years ago.
Our commission was to make four pieces of art that would be reproduced as colour plates. These screenprint editions import the legacy of the First World War into a document that lived in the trenches. The tragedy of WW1 is absent from its pages because it unfolded around them. We found the SGM story as interesting as it is moving. Their tradition of offering gospels without any social agenda attached, to anyone who wants or needs one, allowed them to mass produce words of comfort and encouragement without partiality, during a war where words had already been slain by mass-produced propaganda. A staggering 42 million Active Service Gospels were made, a testament to the demand. Some were accepted gladly, others with derision, and some with derision that became devotion. The trenches were a place where some lost faith and others found it. The story of the Active Service Gospel is a little-known history, and we are delighted to help in remembering it.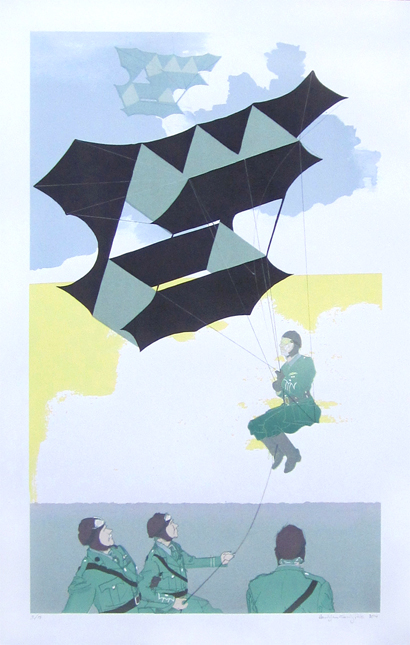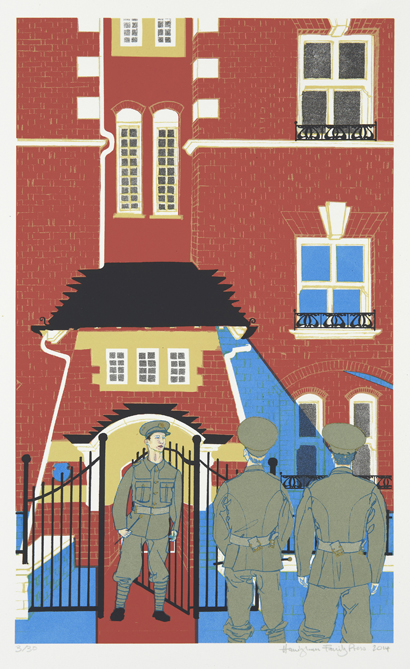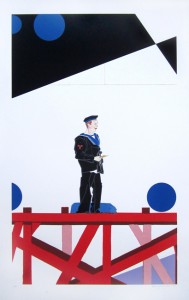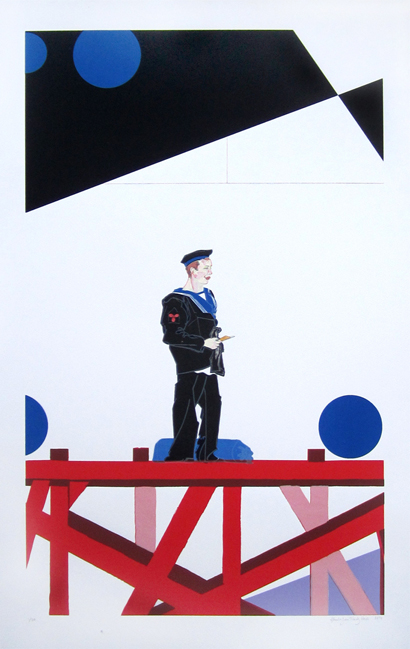 SGM also asked us to reference the Modernist artwork of the time, exploring the tension between Vorticist individualism and Futurist machine-worship. In the context of a machine war, the latter is obviously less appropriate (and less British – only Nevinson was a close disciple of the Italian movement). This was an age when Artists turned Camoufleur. Painters like Wadsworth, under Wilkinson's lead, created vast Modernist artworks in the form of Dazzle Ships. Nash wanted to "burn their lousy souls" with desolate reportage paintings like 'We are making a new world'. Even a regiment of Artist Rifles exchanged the gallery for the shooting-gallery and signed-up.
The Themes Behind the Prints
We began work with life-models and period uniform obtained from a costumier to make portraits of four individuals, each faced with the strains of war, moments when they would have experienced doubt or fear. We collaborated with actors, mainly, in these sessions.
We had two central themes we were meditating on. The first being that, on an international level, the war was about self-aggrandisement and vainglory, but this did not prevent the men who had enlisted performing acts of genuine humility and love, the kind of sacrifices they would have found examples of in the pages of these little gospels. St John contrasts Jesus the Christ, who serves and brings peace, with Caesar the Tyrant who's Pax Romana is obtained through oppression of neighbouring states in warfare. It was after the First World War that Jesus' statement "Greater love has no one than this: to lay down one's life for one's friends." (found in John 15:13) became current in Remembrance. When we began this project we had long considered this usage inappropriate. However, we came to realise that for powerless infantry to be able to redeem their active service by doing acts of service to each other, and sometimes even their 'enemies', was a powerful comfort for many of them. The way we approached all this in the prints was to employ camouflage and symbols of Pro Patria as a symbol of deception. Flat geometric planes, pleats and patterns surround and enfold the figures so that only their faces and hands testify to a human presence and will.
The second theme, or perhaps it was more of a 'consideration', was that the Church of England, and some other Christian groups, had been wrongly supportive of the First World War and contributed to the call-up. This is a shameful episode that confused Imperialism with Mission and searched for Just War instead of fostering Peace. This error of judgement contributed to a decline in British ecclesiastical art, perhaps the only remission being the rebuilding of Coventry Cathedral after World War Two and the artworks and music commissioned for it, all of which find a degree of authenticity in repentance and mourning for humanity as a whole. Most of the brilliant British artists and writers of the 1920s were Secular Humanists or Catholics who celebrated the Internationalist aspect of their Church. We wanted to join in with the spirit of Coventry in representing ecclesiastical themes in a contemporary way. Therefore, in our Nightwatchman, Aviator, Pal and Sailor you will find a nod to the hermit tempted in the wilderness, an annunciation, three disciples and a holy jester.
The Four Prints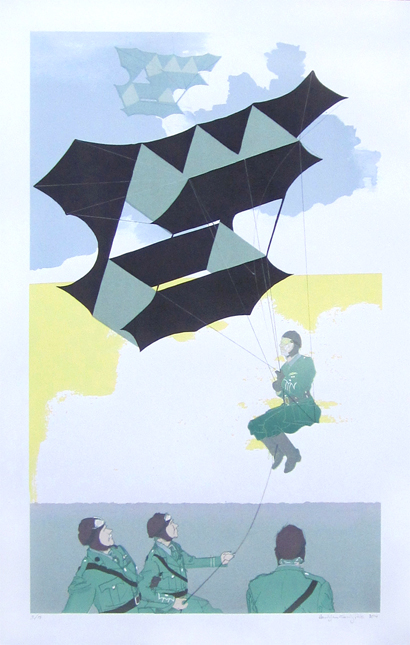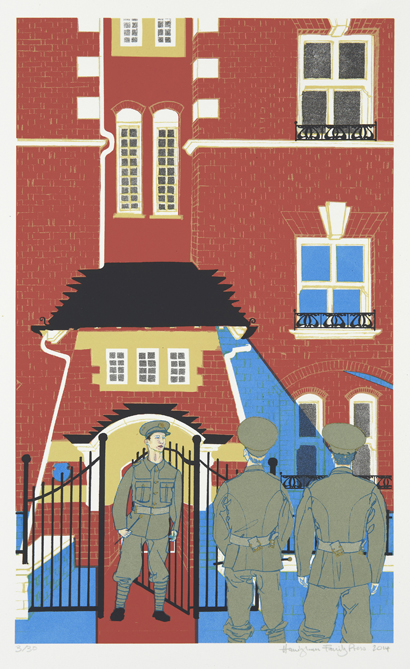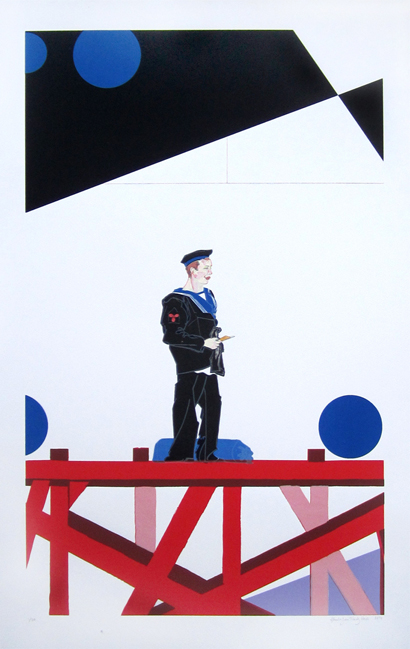 A soldier on Night Watch is a frequent metaphor for enduring suffering and waiting for enlightenment. He is a man aware of his own weakness waiting for vindication. The moon and stars here stand for the light that the darkness cannot overcome. We were interested to find that the trenches were an extension of the human body and, like a grave stretching off into infinity, took the length of a foot, shin and arm for their makeshift construction.
Cody Kites were brought to the British Military by Wild West showman Samuel Cody, who reached the end of his life in Aldershot where the embryonic RAF (Royal Flying Corps) trained. A chain of kites lifted an officer high into the air where he could sight artillery and gather intelligence of enemy movements. The thin cables, like those often painted in gold on depictions of the annunciation, and rapid upward movement imply a religious experience. But the apparatus levitating him is man-made and looks more demonic than angelic, hinting at the particular hubris of this age and conflict.
Our depiction of a pals regiment sees a very young man meeting two friends as they embark on what they believe will be an adventure and a 'rite of passage' together. Their hats, that resemble halos and are circled with a thin gold band, ultimately obscure their identities, hinting that they will lose their lives and he will lose his two pals. The building he is exiting, Navarino Mansions in Hackney, is a social housing project built in the Arts and Crafts style – an architecture that collapses the ideal of a Merrie English monastery into a housing block. We have heightened this sense of overbearing Pro Patria by rationalising it into the colours of a Union Jack. This is intended to contrast with the instinct to serve and save promoted by the verse – contrasting Father God with Fatherland.
The sailor embarking on a dazzle ship is surrounded by the disorienting effect of camouflage, which in all these pictures stands for deception. Note how the same blue circles look different in tone when surrounded by white or black. The sailor has been brought here by words promoting conflict, and is now examining more words that are trying to lay claim to him. The form of his uniform extends the influence of the camouflage onto his own body, but his unkempt appearance shows that his own identity is fighting back. He signed up once, will he sign up again? This picture is about the threshold of faith.
All four screenprints are available to buy
email us here to express an interest
Active Service Gospel replica available here
10 copies for suggested donation of £6
(or free thanks to supporters of SGM)
or copy and paste this link if you can't see the item: http://www.sgmlifewords.com/uk/resources/details/ww1-johns-gospel