What is the meaning of a memorial to an unknown soldier in the age of DNA testing? Does he now embody our desire to ignore the past, rather than remember? At Christie's Multiplied we launched this whole new body of work, which we've been working on over four years. We all know that new technology made the Great War more lethal than any of the volunteers could have expected. What is often overlooked is the degree to which printing technology was essential to attract so many volunteers and bring them to the front line.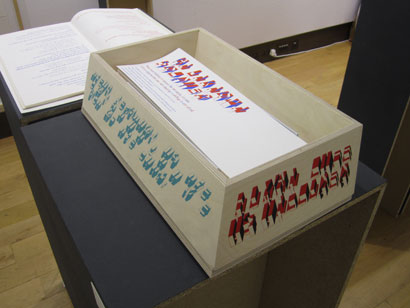 A deluxe screenprinted wooden box contains three documents. It begins with a book containing a screenprinted poem of instruction. A 'Preparatory Oratory', which satirises official remembrance with a voice like the bastard-child of BLAST and The Book of Common Prayer.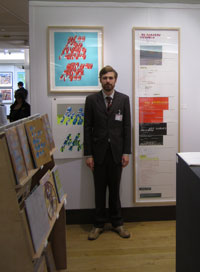 Part II is another screenprinted text, thirteen screenprinted panels. This is 'An Unknown Soldier' himself who "may not be all there". The dialect of no-man's-land is as corrupted as this body of text, which in this photo is exhibited framed on the wall. The horizontal planes of the text correspond to the human frame, juxtaposing body and battlefield.
Part III (Funeral, March) is a triptych of verses that reflect on the author's family on the home front and in peacetime, bound as a small order of service.
The first 10 sets of the prints and books are available in their boxes. The subsequent 20 sets of screenprinted panels are available as prints for framing. The subsequent 20 books are also sold seperately as a pair. A paperback book of the text is available.
Throughout these documents, three bespoke fonts evoke the anatomy of trench warfare. We have pressed these further as three fine art prints using old-fashioned paper sizes, alluding to call-up posters, papers, and martial instruction manuals.
The block letters are topped with patterns redolent of security envelopes. 'Royal Poster (Left Aligned)' reads, 'Thee must hebeas n corpus fur tet corps un see', roughly translated, 'you must have a body for this body of men, I see'. 'Imperial Poster (fully justified)' reads 'Let nuh great unborn pre-empt nuh dead'. Trench (Italic) includes the whole italic version.