The Times Educational Supplement, Britain's leading education periodical, has published a feature on 'Letters Home: The First World War Poetry Kit', a book we published in collaboration with The Poetry Library;
The aim was to create a resource using inspirations that the children might not have got to hear about until university – and that's if they got lucky.
Chris McCabe in The Times Educational Supplement

TES Resources FREE Download: Letters Home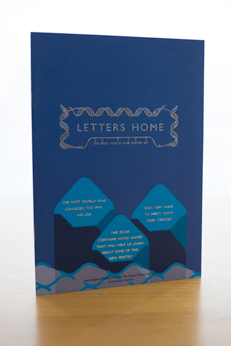 There are three ways for you to get hold of this book:
1: Book a Letters Home Session at The Poetry Library

Everyone who does the Letters Home session with the Poetry Librarians at the Southbank Centre takes their copy of the book away with them.
For more info look at their VISITS page.
Contact: info [at] poetrylibrary.org.uk and request to book LETTERS HOME.
2: FREE Digital Download
This PDF version if adapted for smartphones and tablet computers. It is free to download and share.
Please note that the Surrealists game and the DNA kit could not be included.
Download: Letters Home Tablet PDF
3: Print On Demand
You can order a batch of the printed books including the Surrealist postal game, die-cut DNA 3D concrete poetry kit, and holographic foil on cover.
Pack of 35: £85 (zero VAT)
Pack of 70: £158 (zero VAT)
Contact: david [at] henninghamfamilypress.co.uk
Please allow at least 7 days for delivery
Delivery not included
Letters Home aims to give an introductory guide to these movements as well as providing prompts for writing exercises, including the writing of visual, Imagist and sound poems, the creation of typefaces and collaborative writing through the forming of a sculptural poem. We've tried to make the introductions extremely straightforward, so that children can learn through doing it. The instruction for inventing a typeface is simply: 'This time, draw your own letters from the alphabet that are full of energy'.

One of the nicest things outcomes of Letters Home is that the children want to take the publication away with them. The publication is beautifully designed by the Henninghams with silver debossing on the cover. I don't think it's a case that the shiny foiling is the only reason for the children's attachment to it. By the end of the session they have a sense that the meaning of the words – and their look and feel on the page – are closer than they'd ever imagined.

Chris McCabe in The Times Educational Supplement