We launched our latest book 'The Erroneous Disposition of the People' last night with a live music and art performance at Wilderthorn Presents… a monthly music and art night held at a community cafe in Brick Lane.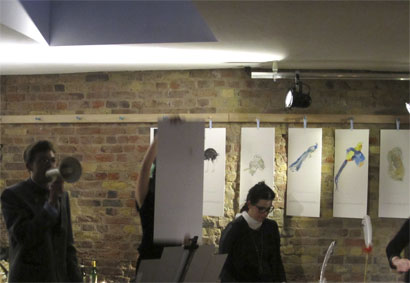 This wonderful book of poetry and prose is by James Wilkes, Eddie Farrell, Julie Rafalski, David Barnes and David Henningham.
The exhibition continues for the rest of this month (and a bit) at Kahalia here. We're really pleased to contribute to the work this community cafe is doing.
You will see a drawing of St George as he might appear on a night out in Romford. A screenprint of John the Baptist wearing wellies, a glow in the dark camel head, and carrying a spare skull in his carrier bag.  Also a whole menagerie of watercolours with their own melodies – a looping score we performed last night. Scrolls with extracts from the book are everywhere…
Cafe Kahalia
135 Brick Lane
E1 6SB
London
Open every day
Mon – Fri 08:30 – 19:00
Sat – 09:00 – 19:00
Sun – 09:00 – 17:00
Read about the book here
Buy the book here
See the whole Erroneous Disposition of the People project here