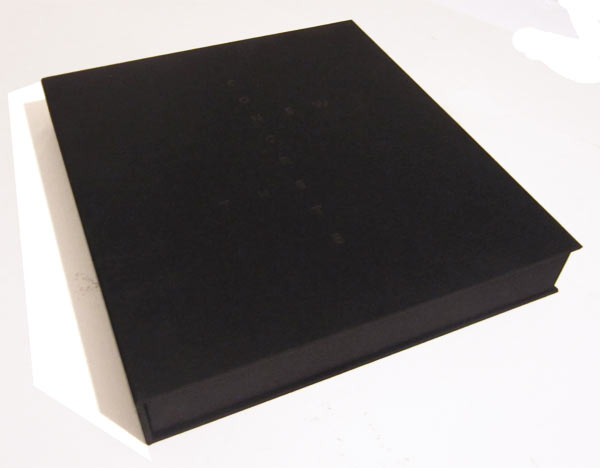 Some of you will remember the delicious Clotted Sun loose leaf book we made with Chris McCabe. His recent editorial collaboration with Victoria Bean, The New Concrete (Hayward Publishing), has led to another similarly satisfying project with us; an edition of 15 deluxe solander boxes containing a copy of The New Concrete and five giclée prints by five instigators from the original Concrete Poetry movement.
Our Epson Pro 7890 inkjet technology and several digital remastering techniques made this a perfect expression of the anthology's theme – the revitalising effect digital technology has had upon the idea of concrete poetry. The beautiful bespoke black boxes we made are in themselves an edition, as we lined them with a black foil debossing of 'Paradise', a print from our Unknown Soldier series which looms in the back of the box like a secret track. This accompanies our Grand Eagle print which is included in the anthology itself.
Victoria took the boxes to America recently where they were acquired for several illustrious collections. If you are interested in finding out more with a view to purchasing one you should contact Victoria directly. It's a great opportunity to get both a landmark anthology and an exhibition in a box.
I love making solander boxes. There's a moment when they become synergetically taut as the glue, cloth and board lock together. They are the pinnacle of my craft.