Letters Home
The First World War Poetry Kit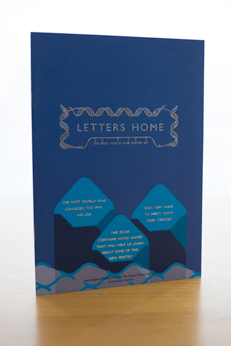 Henningham Family Press and The Saison Poetry Library
14pp, ISBN: 9780956316615
The exhibition of An Unknown Soldier at the Royal Festival Hall that ran from November to January has now come down, but it will have a legacy in the Poetry Library for a few years yet.
We have collaborated on a book of exercises in writing Modernist poetry with Librarians Chris McCabe, Lorraine Mariner and Pascal O'Loughlin. This all ages resource (6+) introduces some of the movements in poetry that the First World War helped introduce to the world, such as Apollinaire's Calligrammes, Imagism, Vorticism, Surrealism and Dada. It will primarily be used to guide school groups or individuals visiting the Saison Poetry Library off the more familiar paths through war poetry, but hopefully it will have legs far beyond the Royal Festival Hall.
Most of the letter games reference the enormous amount of correspondence between Home and Front; 2 billion letters and 114 million parcels. In keeping with our exhibition, inspired by the recent use of DNA on letters home to identify casualties, the book culminates in a game we devised that takes the rules DNA uses to build our bodies to build a strand of visual poetry that can be split and rewritten by a group. The negotiation and collaboration involved is intended as a contrast to the abuse of language and power that war entails. Just like a human body is built through the writing and reading of base-pairs, solidarity in a body of people is achieve through the honest use of arts and language. The pieces punch out of a die-cut sheet and are assembled as part of the collaborative writing process.
If you are interested in using this resource at the Poetry Library you can just pop in and ask for it, they are free and the Librarians can help. Bigger groups can arrange a visit with Chris McCabe via the form on the Library website. If you are interested in acquiring a batch of these for educational use offsite you can also contact us here directly, or Chris McCabe at the Library.
The Letter Games use simple steps, chance and basic word pairings that enable people of all abilities to do the book solo or as part of a group. So next time it is cold and rainy, remember you have been invited to take your children, spouse or literary best friend up to the Poetry Library and ask them for a Letters Home booklet:
Poetry Library
Level 5
Royal Festival Hall
London SE1 8XX
photographs: Harpreet Kalsi