The Henningham Family Press are live printing again with the fabulous London Word Festival!
Our new show for 2011 is the King James Bible Bash, to be held at the sensational Stoke Newington International Airport, the venue that all airports should aspire to be. It will be on April 23rd and tickets are already on sale here (recall the last two years and get in early..)
But that is not the end of the story!
We're inviting submissions for work to be presented as part of the King James Bible Bash. There are two opportunities available: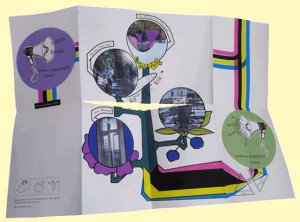 1) Proposals are invited for two short performance-based pieces responding to the theme of Creation, Fall and/or Resurrection.
Fresh and unusual reflections, explorations & interpretations of these themes, that look at the Bible narrative in the context of contemporary fiction, pop culture or secular ideas. Proposals are welcome from artists and performers working in any discipline or art-form, but must culminate in a piece or performance no longer than 15 mins in length, that can be presented in the context of a live show (this can include pre-record and film).
An award of £150 is available per commission, which must include any material costs.
Please send a short description of your project/idea along with examples of previous work (including images/video if possible) to marie@londonwordfestival.com
DEADLINE: FRIDAY 17TH MARCH
2) Work is invited for inclusion in an original broadside poster designed and screen printed by the Henningham Family Press.
Artists, designers and writers are invited to submit work based on the Creation Story (Genesis chp. 1 v1 – chp. 2 v3), in one of seven categories:
Light & Dark
Sky
Sea, Land & Plants
Sun, Moon & Stars
Fish & Birds
Animals of the Land & Humanity
Rest
One entry will be selected per category, with those successful invited to make the publication with us at our workshop on Saturday April 9th. They will present their contribution in a live print production line at the King James Bible Bash.
Entry Specifications
Multiple submissions welcome, though publication is limited to one piece per artist. Entries must be complete but do not need to be print ready.
Those successful will work with the Henningham Family Press to compose the final poster, when changes in scale, colour, layout and other variables will be made. Entrants will need to enjoy a collaborative process, and be open-minded about how their print interacts with other works.
Image-based submissions should:
Include up to two printed colours (the overlap can make a third)
Be a maximum size A4 (though this may be scaled up or down during the design process)
Be submitted as PDF (other file types might be requested, so keep layers separate)
Text based submissions should be submitted as .doc or .odt file
Please send submissions to david@henninghamfamilypress.co.uk or by post to
Henningham Family Press
399 Mentmore Terrace
London Fields
E8 3PH.
Timeline
DEADLINE: THURSDAY 7TH APRIL
Day at HFP (for selected works): Saturday 9th April
Performance: Saturday 23rd April