We will be stallholders at this Saturday's Poetry Book Fair. Here are our top picks!
Dedalus
Dedalus is the debut novel by established poet Chris McCabe. It tests the theory that a home can be carved out for Concrete Poetry in the novel.
McCabe's invention never flags. – Literary Review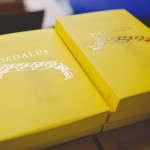 Now Legwarmers
Now Legwarmers is another debut by a much-loved poet, Pascal O'Loughlin. Every page is suffused with his poetry, humour and empathy for John, a teenager struggling to cope with the loss of his father, and a safety conscious ghost.
O'Loughlin's prose, plain yet poetic, is a perfect match for a delightful coming-of-age novel. – The Idler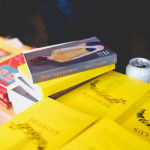 An Unknown Soldier
An Unknown Soldier formed part of our solo exhibition in the National Poetry Library, for the Southbank Centre's commemoration of the 2014 Centenary of the First World War. There are only 16 copies left! If there are any left after the fair I might lay them down as an investment.
Henningham's mordant wit and avant-garde flair is part of another poetic tradition stretching back to Wyndham Lewis, Ezra Pound and the Dada pranksters of Zurich. – The Times Literary Supplement