Some of you may remember the ballad we printed live with Jon Bilbrough at the London Word Festival 2009 .
This year we have created a new show called 'Chip Shop', featuring a fully functioning mobile screenprinting workshop. "Built from chip-board and replicating a full-size chippy, The Chip Shop is a fully functioning temporary screen printing workshop, serving up words printed on wooden board."
Come and add your favourite word to our catch of the day menu!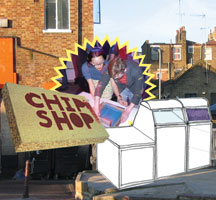 A silkscreen print, on chipboard – yours for the price of a bag of chips! Is it really possible? Yes! The Chip Shop will be appearing at least 3 times in March as part of the London Word Festival:
March 7th Toynbee Arts Bar & Cafe, a FREE event where we'll be frying solo.
March 20th 'Keep Printing and Carry On', Stoke Newington International Airport – an eclectic night of music, mini-lectures, cake, featuring Murray Macaulay doing a Universette reprise on Sister Corita (the screenprinting nun), Darren Hayman, and more from our good friends the Universettee.
March 31st, "The Art of Storytelling", St. Leonard's Church, we'll be tying up all the loose words printed throughout the festival into another live print with the help of a very special guest poet.
More details to follow in our March Newsletter, but meanwhile we point you to the festival website and coverage at Amelia's Magazine.