Chip Shop's appearance at Toynbee Studio Arts & Café Bar, our 1st official outing was a roaring success – from the minute we opened to the moment we ran out of chips to sell (by popular demand, closing time was delayed by half an hour) we were rushed off our feet!
Here's some photos from our point of view: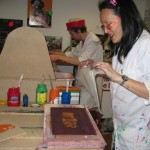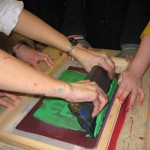 And for some photos from the other side of the Chip Shop counter, see here.
If you missed it, or just want to come see it happen again, we'll be at the Red Art Cafe (113 Kingsland Road, Dalston) this Sunday 14th March, 12-5pm. It's also the last chance to submit words for the London Word Festival 2010 Official Festival Poem to be written by Ian McMillan.